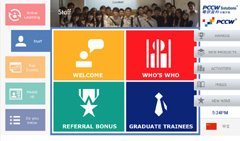 Set up internal communications system to host and distribute on demand content from multiple sources
PCCW is a leading telco and solutions company with several office buildings around Hong Kong and presence in multiple markets around the world. With thousands of employees and customers, it is a challenge to provide timely and relevant information on top management briefings, training resources, HR, legal and financial updates to teams and to alert matrix solutions teams of new wins, business information and other industry-specific news.
We developed the business and go to market and brand concept for a live streaming internal employee communication system. Content is delivered to touch screens in corporate coffee lounges and meeting rooms with access on multiple devices to executives and other employees as required. Communal areas have touch screens which  distributes latest content from several sources for employees working in separate office and regional locations such as HR announcements, Training courses, Industry news, new wins, performance results, new branding and product launches.  This has the benefit of allowing centralised resources for internal communications to bring latest news. This pilot scheme was well received with the intention to offer it as a solution in PCCW Solutions for customers.